Par quem já viu quase tudo em Las Vegas e gostaria de algo diferente e inovativo o Rose. Rabbit. Lie., pode ser uma opção interessante.
Trata-se de um restaurante onde você não apenas janta, mas também tem a oportunidade de ver e participar do show apresentado por dois artistas em intervalos rotativos, uma vez de cada.
Os artitas interagem com a platéia uma vez que não há palco, o palco é o próprio restaurante e, como dizem, não é um jantar com um show, é um jantar EM um show.
Muito bem decorado,com iluminação à velas ele não apenas é chic como também romântico.
A louça e os talheres, para mim que sou louca por esses detalhes, formam um capítulo à parte, sesacionais.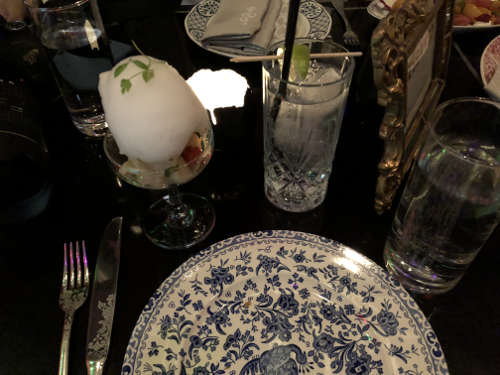 A comida, do chefe Steven Gotham é muito elegante e saborosa, embora, para os padrões americanos, porções bem reduzidas, afinal quem já viu chefe de coiznha servir pratos grande, é tudo minimizado…. mas para o brasileiro pode ser suficiente.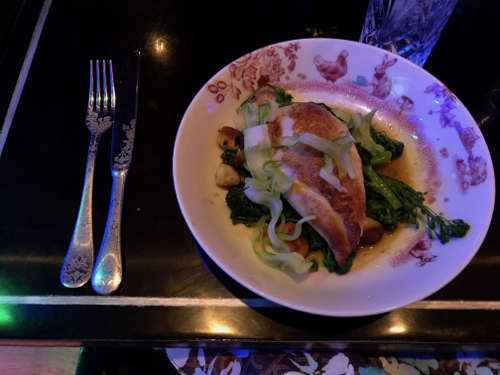 Os pratos e principalemnte as sobremesas são cheios de surpresas como flores, gelo seco, espumas, coisas assim… eu honestamente prefiro coisas mais simples e como dizem aqui, "confort food"sabe aquela feijoada básica ou espaguete com almôndegas, coisas desse tipo, mas você não vai encontrar esse tipo de comida por lá, então o melhor é curtir o show e comer apenas como distração.
São 7 salas e cada uma com um tema.
Uma cópia do jardim das Delícias Terrenas ( The garden of Earthly Delights )originalmente pintado no final dos anos 1400/início dos anos 1500 reside no Study, enquanto o original está no Museo del Prado, em Madrid. (É a foto que coloquei na "capa"do post")
O preço, não é exatamente barato, afinal você está pagando por comida de chefe, um serviço impecável e show, começa em 50 dólares por pessoa, mas não creio que alguém page perto disso.
Enjoy !
Sandra